30 years ago yesterday, a small cartoon strip began its journey with a five year old boy trying to trap a tiger with a tuna sandwich. In less than a year, Calvin and Hobbes became syndicated in over 250 newspapers in the United States, and soon after found successful circulation throughout the world.
The strip was one of three bodies of work that truly inspired what would become my voracious appetite for books. Alongside Winnie the Pooh and the original Grimm's fairy tales, Calvin and Hobbes appeared easy to digest; its clean lines, simple color pallet, and distinct style easily entranced young readers. As a child, Calvin and Hobbes became something more to me than a comic.
Each strip opened up a new world of opportunities: from living stuffed animals to spaceman adventures in the principals office, I was inspired to let my imagination be my guiding force. The strip also opened me up to new, often verbose, language, and had me searching for a deeper meaning in each panel, learning about new words, undiscovered concepts, and ultimately birthed in me a passion for the high culture in pop art.
Bill Watterson masterfully wrote and illustrated each strip. In his art, you can see the philosophy of Eisner, the simplicity of Schultz, and yet his inks speak of something so intrinsically his own. He never treated his audience as children, never spoke down to them. Instead, he spoke up, offering lofty theories, combined with sly comedy and astounding allusions. Calvin and Hobbes, in my eyes, is what truly great pop culture can be: the beautiful, self-aware  marriage of "high art" and "low art."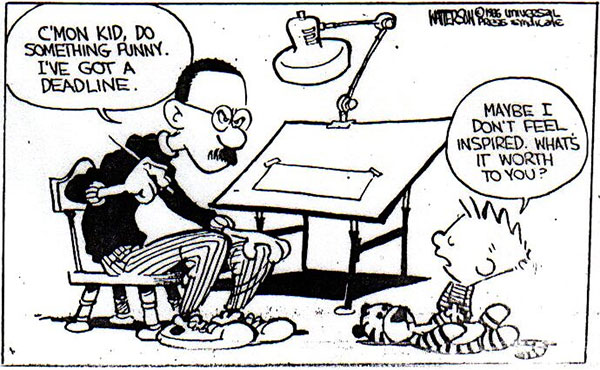 Bill Watterson , too, is a fascinating figure, and makes Calvin and Hobbes that much more enigmatic as a cartoon. The strip, which has been serialized in 18 volumes, has never been merchandized (beyond a few books) by explicit request (some would insist "order") of Watterson. Furthermore, the reclusive author has declined interviews for books, documentaries, and most newspapers, and is rarely seen or heard from by people, except for those who live outside of his hometown of Chagrin Falls, Ohio and Cleveland Heights, which he relocated to in 2005.
On rare occasions, Watterson's post-Calvin and Hobbes art has graced the public, including an oil painting of one of Andrews McMeel's characters from his stip Cul de Sac (sent as part of a fundraising project for Parkinson's Disease), a poster for the documentary Stripped, and three strips of Pearls Before Swine that were illustrated (initially in secret) by Watterson in 2014.
Watterson's eremitic nature aside, or perhaps because of it, Calvin and Hobbes is one of the most influential and enduring comics. Timeless because of its reliance only on the worlds a child can create outside of the constraints of reality, Calvin and Hobbes transcends what it means to be a comic, and becomes something more powerful and significant than lines on a page.